EXTERNAL SOLID WALL INSULATION
Installing External Wall Insulation can save up to £475 per year on fuel bills and prevent 1.8 tonnes of harmful Carbon Dioxide emissions being produced, in addition to improving the appearance of your home. Grants are available to help fully/partly cover the cost of External Wall Insulation, apply now to find out if you're eligible. 
WHAT IS EXTERNAL WALL INSULATION?
Most properties built before 1930's were made with solid walls, meaning they didn't have internal cavities that could be filled with insulating materials. This leaves solid wall properties with the only option of external insulation to improve the energy efficiency. The aim? To reduce the movement of heat leaving through the walls, dramatically reducing the heating demand.
Heating costs are on the rise in the UK and it's becoming an increasing challenge for residents to keep their house warm without breaking the bank. UK properties lead the way in being the 'leakiest' for heat across Europe and External Wall Insulation is a very effective way to keep your bills in check, reduce your heat loss and minimise your carbon footprint. It's a win-win for households and the environment.  
Heat passes through solid material at a faster speed than through a gap or 'cavity' – In fact, an estimated 45% of your home's heat could be lost through solid walls
EXAMPLE OF EXTERNAL SOLID WALL INSULATION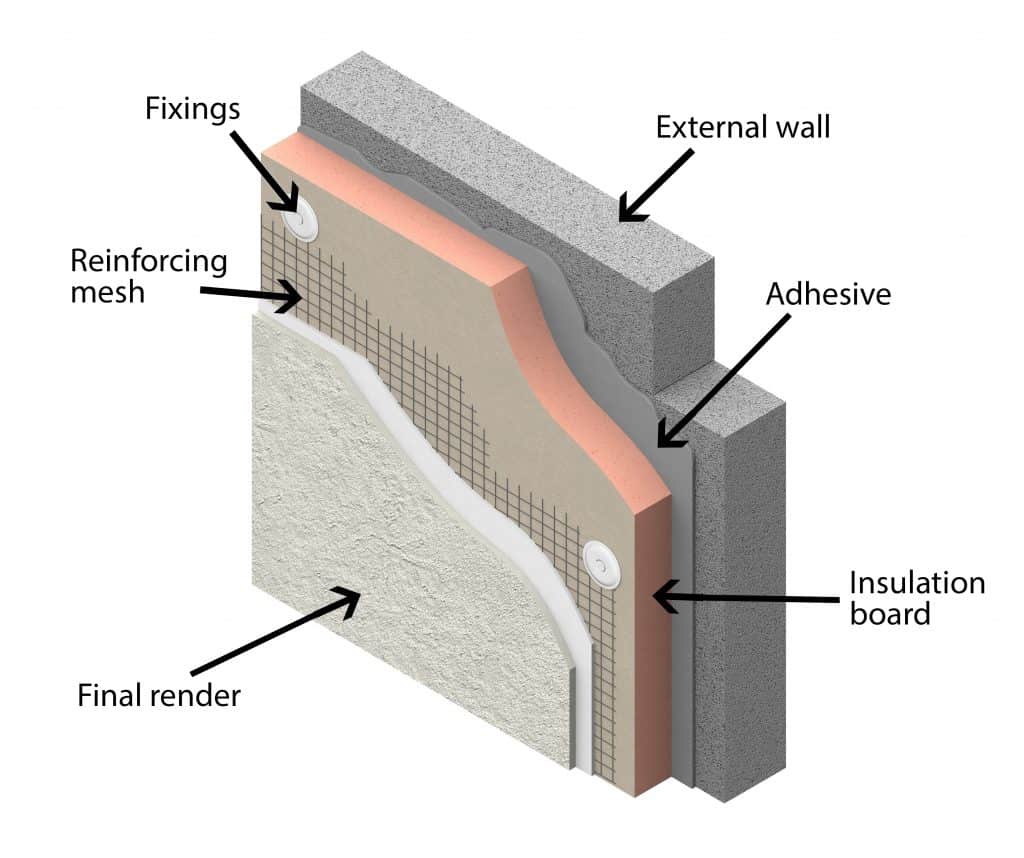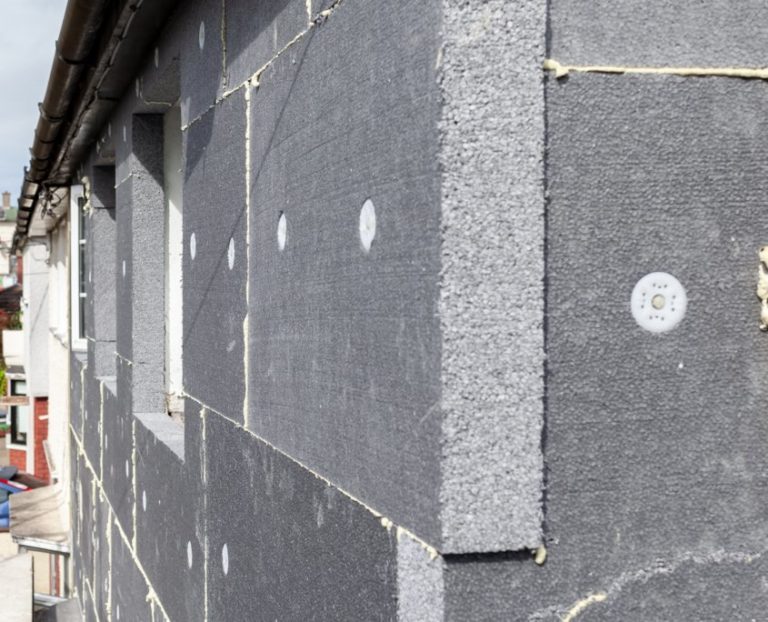 Your property must meet the following criteria before External Wall Insulation can be installed:
If you're not sure about whether your property is right, you can ask our team for help and they can advise further. 
A layer of insulating material (typically 60mm boards) is fitted to the outside walls and covered with render or cladding. There are a variety of finishes to choose from, including: smooth, textured, tiled, painted or brick/stone effect.
External Wall Insulation provides a weatherproof layer that will protect your brickwork, increase sound resistance and help to prevent damp problems.
The insulation material is fitted to the outside of a property so it won't reduce the floor area and can be installed with minimal disruption. It will also renew the appearance of your walls, increase the value of the property and will result in large savings on heating bills.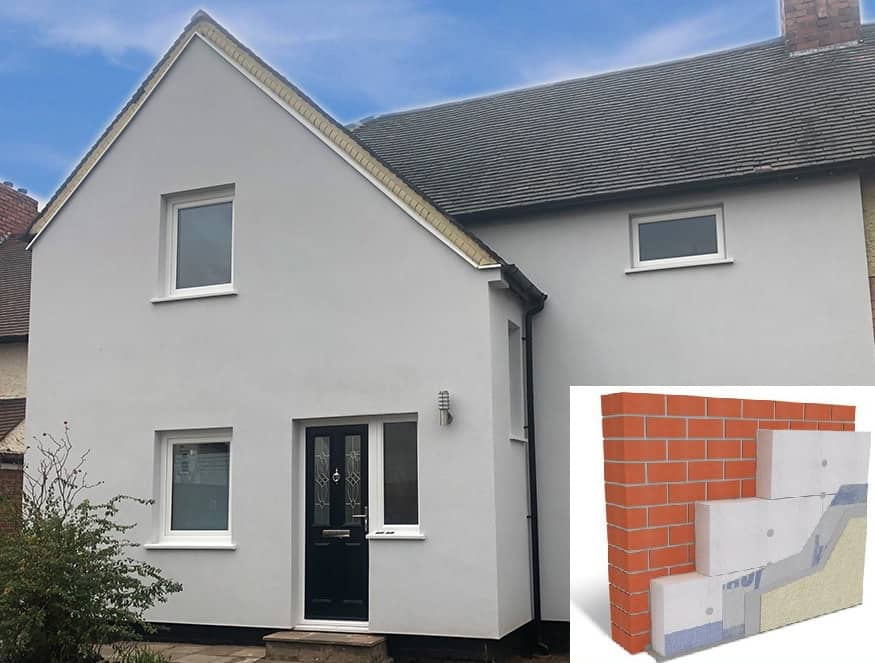 BENEFITS OF EXTERNAL WALL INSULATION
External wall insulation is ideal if you want to slow the transfer of heat escaping through your walls and maintain your interior square footage. Other benefits include: 
INSTALLING EXTERNAL WALL INSULATION
Once our surveyor visits your property, they will take measurements of your outside walls to determine how much insulation is required. We will also confirm the suitability of this type of insulation.
On the day, any fixtures and fixings that need removing or extending are dealt with, for example, if the gas flue pipe needs extending a gas engineer will need to carry out the work. We will also fit protective materials to the windows to avoid damage during the fitting.
There is minimal disruption during an External Wall Installation since the majority of the work takes place on the outside of the house. The only potential disruptions are:
Scaffolding in place throughout the course of the install which could hinder access to walkways and doorways.
Heating/water being switched off if piping or a gas flue has to be extended, but this shouldn't be for more than an hour.
One day of intermittent drilling whilst the insulation boards are being mechanically fitted.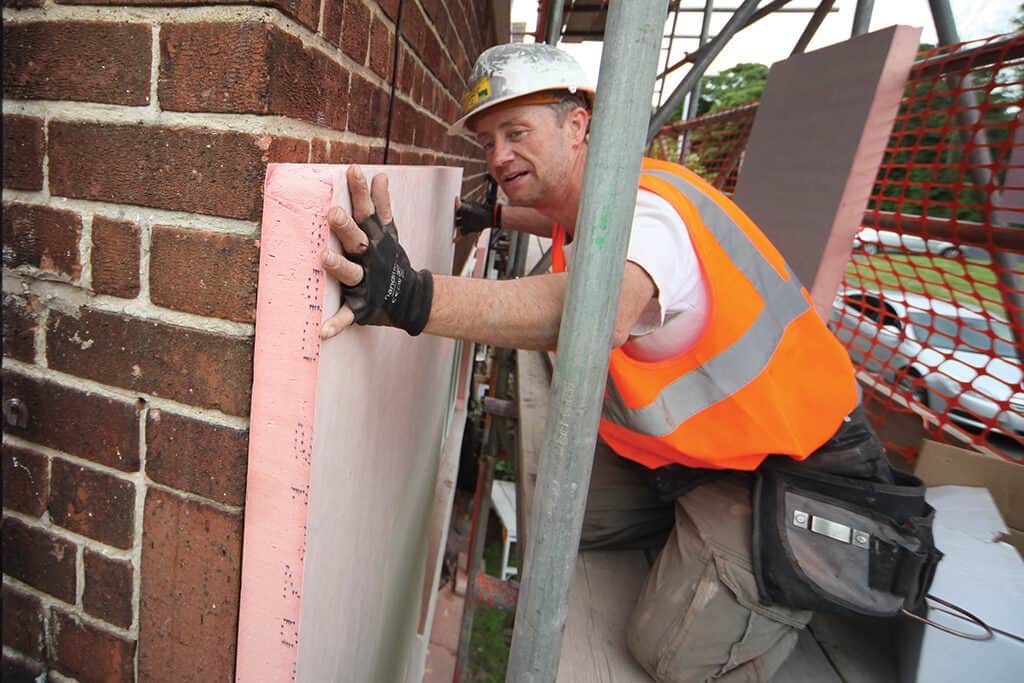 Insulation boards are prepared and fitted. The boards are cut to the necessary size, and adhesive is applied. They are then placed on the walls in a pattern that looks a bit like brick work.
The insulation boards are mechanically fixed to the wall to secure them further. Once they have been stuck with adhesive they are then drilled into place. Self-tapping screws are usually specified.
A meshcoat is applied which is a three-layer system that adds strength to the insulation. A polymer-modified base coat is applied, a glass fibre reinforcing mesh is fixed on to this base coat and a second coat of polymer-modified render is applied over the top.
Once the meshcoat is dry, a primer (top coat) is applied, this is more commonly a grained-textured silicon top coat. This is the final layer of the system and gives a decorative finish. The coating is pre-coloured according to the customer's preference.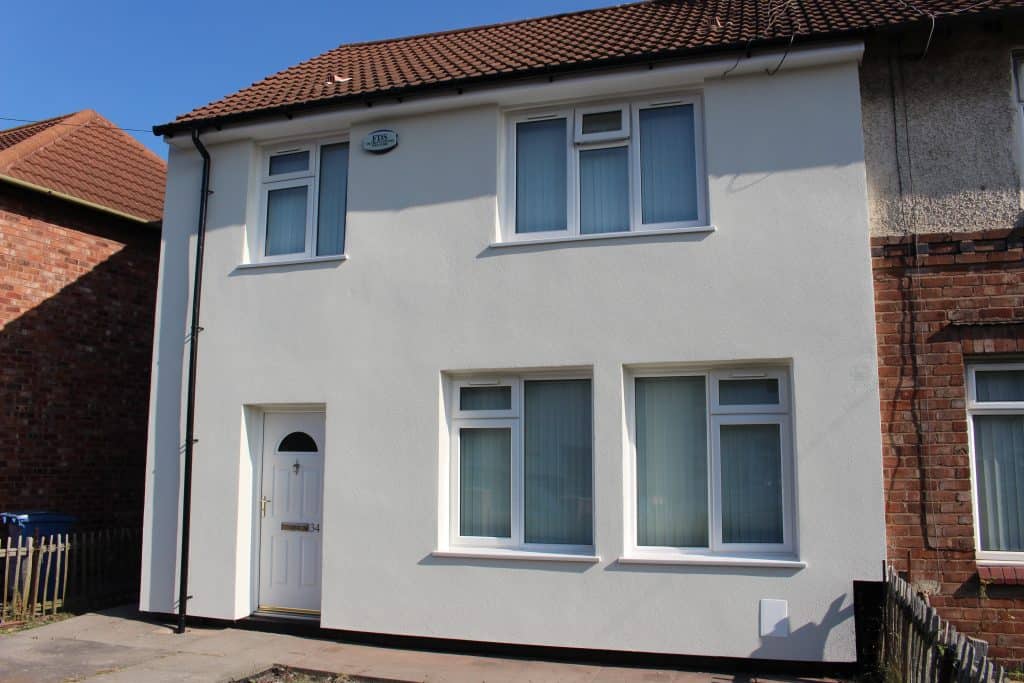 Corners and edges of the system are protected with reinforced beading. Beading is used to stop External Wall Insulation from touching other material that can affect the performance of the insulation, and it helps to ensure clean, neat edges around window and door openings.
Fixtures and fittings are then reinstated and protective window sheeting is removed. Satellite dishes, lights and alarm systems are placed back on to the outer walls, and all protective sheeting and film is now removed.
Lastly our scaffolding is taken down and the installation is complete, enabling you to enjoy a warmer home with a brand new look.